Viral Traffic
Viral Marketing allows you to get huge amounts of traffic to your sites with very little effort. Many sites allow you to advertise to your direct referrals, or earn from your direct referrals, but sites with more than one level allow you to earn from your referrals and their referrals many levels deep.
Below are some free viral traffic sites. Tip: Use these sites to advertise other viral sites and you can grow your downlines virally, creating a traffic snowball.
Viral Link Advertising
1M Hoopla (5 Levels)
This is a viral traffic builder, where you can gain 1000's of hits to your site from referring people. Join Free - The Most Productive Viral Marketing Online.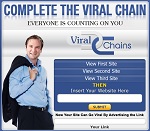 Viral Chains (2 Levels)
Generates hits to your website for as long as you find new people to viral chains. It doesn't stop there, you also get hits from your referrals and referrals of your referrals! No Sign-up Required!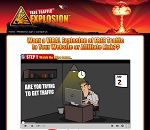 Free Traffic Explosion (5 Levels)
Your ad displays in the #1 spot on your site and as you refer people it displays in the #2 spot on thier pages. You ad is then displayed in the #3 spot on their referrals pages and so on 5 levels deep. Visit the site for a full demonstration on the viral power of this site.
Viral Banner Advertising
01Viral
A viral banner advertising site, that allows your banner to be shown on all your referrals pages.
Allows you to add a Power Ad (either text or banner) that is shown randomly across 8000+ members pages. You then ads a text ad that is displayed in the position #1 spot on your pages, and when you refer someone they can add their ad into position #1 and yours will be moved down to the #2 spot. And this is where the real "viralizing" starts, and your traffic literally explodes. Those that sign up on the pages of your 1st level people will promote your ad in spot #3... and with each additional level your ad moves down, all the way to position #6.
Hint: Always display your raw Ad Viralizer affiliate link and not the splash pages provided, as you will get some people who just click your Power Ad or text link without joining!
Buckets Of Banners
A banner exchange and so much more. Display banners on your site, in exchange for them showing your banners in multiple places and other sites.
Cash In On Banners (6 Levels)
Another viral banner ad site, that gets your banners shown on your referrals pages 6 levels deep!
Viral Banner Ad Co-Op allows you to turn your unused credits on many sites such as Traffic Exchanges into one of the most targeted traffic sources. Display the co-op banner rotator on your sites and earn credits, that then allow you to display your banners on over 1000+ sites for FREE!
Viral traffic system, where you click 7 banner ads daily to view others sites, and then your sites are shown for 24 hours. You can add 5 sites as a free member.
vTrafficRush (6 Levels)
When you share your Branded Viral Ad Page and new members join under you, your ad is also seen on their pages providing you REAL viral advertising that multiplies exponentially as your downline grows!
Social Sharing
List Jumper - Has social sharing buttons, so people can share your ads on Facebook & Twitter.
JustRetweet - Twitter Retweets, More Traffic, Followers & Retweet Tool.
SocialMediaBar - Allows you to shorten your links and adds social sharing buttons, to allow your link to be shared virally!
Trck.me now allows you to add a Social Share frame to all your ads, so you can now get viral traffic from people sharing your sites.

Traffic Exchanges
Power of 5 Traffic Exchange System - Viral PDF that shows you how to get residual traffic from 1000's of Traffic Exchanges with no extra surfing.
Viral List Builders
List Bonus (10 Levels)
Another quite basic mailer, but still getting great results from this one. Free members can send out 1000 emails every week.
List Joe (6 Levels)
Viral List Builder with 6 levels of referrals, which you can email for free!
List Outbreak (15 Levels)
Viral List Builder which is more viral than anything you've seen before. Once you get access to the members area you'll discover the unique feature that's spreading it like wildfire. With a massive 15 level downline you don't want to miss the boat on this one.
Text Adverts
AdsVert (5 Levels)
Allows you to earn free targeted advertising by adding a text ad widget to your site. Your targeted ad is shown three times every time you show one AdsVert ad. You also earn extra advertising credits from your referrals 5 levels deep! You can also cloak any affiliate site and add an AdsVert ad to it (Click Here for a demo). Free to join and you get 2500 credits when you join.
Leads Leap (10 Levels)
Allows you to post a free PPC style ad for free. This is shown for free in the members area to your referrals, and their referral 10 levels deep. You also can earn credits by clicking ads, or displaying a widget on your site, which shows your ad across all networked sites.
Read the article How To Get A Lot More Traffic And Leads With LeadsLeap Widget 2.0 for full details.
Viral Text Ad Coop has just opened and it allows you to post your text ads to 100's of sites automatically.
Your Text Ad will Go out to Traffic Exchanges, Super Solo Networks,
Text Ad Exchanges, Credit Safelists, List-Builders, Blasters
and Viral List Builders.
Viral Text Ad Co-Op is free to join, so check out their
OTO and Special Offers for the best deals!