List Building eBooks
Here is a selection of free Internet Marketing eBooks for you to read or even use to start your own mailing lists. You can also use many for free bonuses etc. Please consult each eBook for it's rights to usage.
I have tried to only include free eBooks with valuable content and not the usual sales patter. If you have any others, then please feel free to submit it to the email at the bottom of the page.
"SHOCKING... New Strategy Guide Blows The Lid Off Safelist Marketing!"
Get Ready For A No Holds Barred Approach To Safelist Marketing That Will Have Your Competition Running Scared And Scratching Their Heads In Disbelief.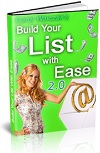 The Complete Guide To Making Money With Your Autoresponder