Banner Advertising

How To Boost Your Banner Click Through Rate
Rebrandable PDF showing you step-by-step how to get your banners shown on 1000's of sites for FREE!.
[Right Click - Save As...]
Download the report, rebrand it, share it and get MASSIVE traffic!
Banner Advertising Sites
01Viral - A viral banner advertising site, that allows your banner to be shown on all your referrals pages.

Submit your banner daily for FREE!
Banners and Bucks - Allows you to get your 468x60 and 125x125 banners displayed on referrals pages. You can show 1 or 2 banners on each splash page at a time.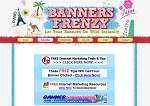 Banners Frenzy allows you to post 4 banners for free and 8 banners as a pro member, that get rotated on the bottom of all free members pages. Upgrade is a one time fee of $10, and allows you to earn $5 from your referrals upgrades.
Buckets Of Banners - A banner exchange and so much more. Display banners on your site, in exchange for them showing your banners in multiple places and other sites. Also you can surf the banners in the system to earn credits to display your banners.
Cash In On Banners - Another viral banner ad site, that gets your banners shown on your referrals pages 6 levels deep!
Add unlimited FREE banners, with unlimited FREE impressions for life!
GEO-Adverts - Allows you to GEO Target your Text and Banner ads to over 25 countries. Banners are currently being displayed on over 600 locations. With the added option of rebranding over 30 different programs you can even build multiple downlines at the same time!
Add 4 FREE banners, with unlimited FREE impressions for life!
Referral Banners - Get a FREE $5.00 USD sign-up bonus. Earn advertising impressions for displaying their banner on your site, which allows you to display your banner on the network. Pays affiliate commissions for any of your referrals that purchase advertising.
Viral Ad Builder - Allows you to display your ad on your pages and a further 2 levels of your referrals for FREE! Check the site for full details on "How It Works".
Viral Banner Ad Co-Op allows you to turn your unused credits on many sites such as Traffic Exchanges into one of the most targeted traffic sources. Display the co-op banner rotator on your sites and earn credits, that then allow you to display your banners on over 1000+ sites for FREE!
Viral Repeat - Viral traffic system, where you click 7 banner ads daily to view others sites, and then your sites are shown for 24 hours. You can add 5 sites as a free member.
vTrafficRush - When you share your Branded Viral Ad Page and new members join under you, your ad is also seen on their pages providing you REAL viral advertising that multiplies exponentially as your downline grows!
Banner Trackers/Rotators
Trck.me - Allows you to rotate unlimited banners and track where the hits come from and the CTR of any of your banners.
intelliBanners - The original banner ad rotator and co-op.
Affiliate Toolbox - Allows you to track your links. Also has site, banner and thank you page rotators.