Maximize Your Traffic Exchange Results

TE MAXIMIZER eBook
Learn How To Easily Maximize
Your Results With Traffic Exchanges!

Includes more detailed tips not mentioned below!
Here are some simple ways to maximize your Traffic Exchange results and make more money with less surfing!
Only Surf The Best Traffic Exchanges

Don't waste your time surfing Traffic Exchanges that no-one else uses or don't actually have people clicking on the ads. You can test all the Traffic Exchanges yourself, but an easier option is to use one of the ranking sites to surf the best ones.
TE Hoopla Top 10 Traffic Exchanges
Affiliate Funnel Top 10 Traffic Exchanges
Hint: You can also use the above sites to grow your downlines in many top exchanges by promoting the one link. Check out more downline builders.
Use Multi Level Traffic Exchanges
These sites allow you to earn traffic from not only the people you refer, but from the referrals of your referrals many levels deep. Say you had a program with 5 levels and your referred 5 people and they all referred 5 people you would have 3905 referrals.
Level 1: 5
Level 2: 25
Level 3: 125
Level 4: 625
Level 5: 3125
Total: 3905
This means that you will have to surf much less, as all your referrals are earning you credits when they surf. Here are some of the best multi-level sites:-
TrafficG (5 Levels - 10%-10%-10%-10%-10%)
Allows you to geographical and interest target your sites, which means you get a better response. Also if you surf just 5 sites a day you can win 3000 credits in the daily draw. I have won it 3 times already, earning me 9000 FREE site visits, without surfing!
EasyHits4U (5 Levels - 10%-5%-3%-2%-1%)
Allows you to Geo target your sites. One of the biggest traffic exchanges with over 600,000 members.
WebmasterQuest (5 Levels - 10%-5%-2%-1%-1%)
Allows you to geographical and interest target your sites, which means you get a better response. You can also bid for the "Site of the Day" with your credits. You can also play games that you can win up to 1000 credits or 10,000 banner impressions. Allows you to bid on keywords in the search to get targeted visitors and also you get FREE visitors as well!
Surfers2U (5 Levels - 10%-5%-3%-1%-1%)
Another responsive site and if you surf 50 sites daily you can win many different credit prizes, also you can claim 650 bonus credits monthly.
Always Use A Splash Page
Never promote generic affiliate pages or long sales pages in a Traffic Exchange. You need to make your ad stand out and also load quickly, as many people don't spend long on the page.
That is why splash pages are so effective, they are mainly just a single graphic or a short attention getting headline and sub text to get the visitor to click the ad for more information.
Create splash pages with AdKreator or Instant Splash (Also allows you to create squeeze pages).
Ideally you should then link the splash page to a squeeze page, where you can capture the visitors email address and add them to your list before sending them to what you were advertising. This way you can promote more stuff over and over again without extra advertising, as the people are now on your list! You can find full details on how to do this in my Simple Make Money Online Blueprint article.
Check out the Email Marketing pages for some great free resources to create squeeze pages.
Use Rotators & Trackers
Make sure to use site rotators and banner rotators where you are allowed. This allows you to then change your ads in the rotator site, and not have to log in to each exchange to change your ads by hand.
Another great use of the rotator is that you can use it to split-test two ads to see what is performing best. I can highly recommend Trck.me, as it has both site rotators and banner rotators with built in tracking. You can get a free 30 day trial to test it out and then it is $9 per month. A great free alternative is Affiliate-Toolbox.
A recommended free rotator is Page Swirl that allows you to rotate 5 websites and 5 banners.
Surf Many Sites At Once
If you use a browser with multiple tabbed windows (eg. Firefox), then make use of it. You can then open several traffic exchanges in different tabs and simple switch from tab to tab (Press CTRL & TAB) to surf the next site.
If you open sites with similar surf timer lengths, then you don't have to wait for certain sites to finish. So don't surf several 6 second sites and a 15 second site.
Using this technique you can earn credits a lot faster at multiple exchanges, than just surfing them one at a time.
Expand Your Reach With Viral Traffic Co-Ops
If you only surf a few Traffic Exchanges, and only show a few ads, then people will eventually become blind to your ads.
If you don't want to join a load more sites, to get your ads seen, then you can use a Viral Traffic Co-Op, to get your ads seen on 100's of other sites.
Viral Traffic Co-Ops work by you showing the co-op rotator URL on the sites you surf, and this earns you credits which allows you to show your ads in the co-op rotator at sites of other members.
The best one I personally use and recommend is Explosive Traffic. You can add up to 3 sites for free and also block your ads from being seen on certain sites if you so wish.
Another highly recommended site is TE-JV, that allows you to add 1 site, but has better credit rates.
Only Surf When You Need To
There is no point surfing a site, that you already have enough credits to show your sites for many days to come. The trouble is that to keep track of what sites you have run out of credits, you have to login each day which is very time consuming.
A great free resource to use is TE Command Post, which allows you to instantly see how many credits, banner impressions and text impressions you have for up to 10 sites from the one site. If you notice a site is getting low, then you simply click the login button and start surfing.
TE Command Post is also a very good downline builder, which allows you to add your referral ID's for all the sites you are a member of. So when you refer people to TE Command Post, they can join your other sites through the links inside.
Make Use Of All The Advertising Resources Available
Most Traffic Exchanges allow you to also add Banners and Text Ads. Don't forget to make use of these, as they are extra free exposure for your ads.
Try not to use standard affiliate banners, and make you own eye catching ones. Read the article Boost Your Banner Click Through Rate, for some simple ideas to get your banners noticed and clicked!
If you have a really good converting banner, then convert your credits to banner impressions, as you will get more views per credit for a banner than a normal page!
If you want to get your banners shown on 100's of other sites, then you can simply add the Buckets of Banners banner exchange links into your Traffic Exchanges. Displaying their links will earn you 0.5 credits per display, that you can then use in Buckets Of Banners to display your banners across their entire network of sites.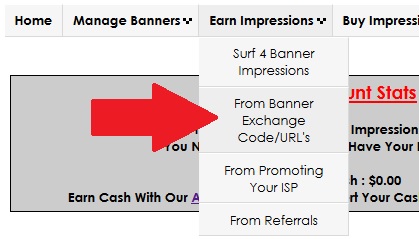 Now copy the links you find for the Image and URL into your Traffic Exchange banner advertising section.

Claim FREE Bonus Credits For Top Sites
Viral Bonuses gives free promo codes each week, that allow you to claim free advertising at many of the top advertising sites. Check the Promo Codes page for the latest bonuses you can claim.
If I find any more good hints or tips, I will add them to this page. If you have any good nuggets you would like to share, then please email me at the address in the footer, or you can contact me on my social sites listed at the top of the site. Or if you want to just ask any questions, then please feel free to contact me, as I am here to help you.
All the best,
Martin Chantler.
(Reduce The Hype)
Skype: reducethehype - Feel free to add me!